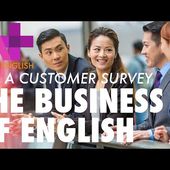 The Business of English Episode Nine: A Customer Survey - INGLESE SENZA SFORZO
inglesesenzasforzo.com
We look again at presentations. TAN: Today I'm going to look at the results of our customer survey. First I'll go through the survey questions, then summarise the results, and finally I'll outline the conclusions. After that, there'll be time for questions...
http://www.inglesesenzasforzo.com/article-the-business-of-english-episode-nine-a-customer-survey-125127287.html