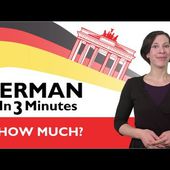 Learn German - German in Three Minutes - How Much? - LINGUE SENZA SFORZO
linguesenzasforzo.org
Learn useful number-related phrases in German with our German in Three Minutes series! In Germany, knowing numbers is important, and this step-by-step video teaches you some of the basics you need to know while speaking German. A native German teacher...
http://www.linguesenzasforzo.org/article-learn-german-german-in-three-minutes-how-much-123046506.html